ANNOUNCED AS AMBASSADOR FOR MENCAP
Single 'Broken Wing' to mark World Down Syndrome day, Mar 21st
Cormac Neeson, the lead singer of Irish rock band The Answer, is set to release his first ever solo album titled White Feather. The new project propels him into the life affirming world of the singer / songwriter with a series of beautifully crafted, introspective songs that draw on a recent past that has served up its fair share of challenges and heartache. As ever, Neeson does not shy away from addressing some of the most emotionally charged and dramatic events of his recent life.
Following three intensive song writing trips to the USA over a period of 15 months, the album was recorded 2018 in Nashville at the legendary Studio 19, now the Sound Kitchen. Cormac immersed himself in the rich musical history of both the studio and the city, channelling a re-energised creativity working with some of the finest Nashville musicians including Steve Grossman on drums (Gibson Miller band, India Arie), Doug Kahan on bass (Cody Johnson) and John Heinrich on Pedal Steel (Garth Brooks, Shania Twain, and Tammy Wynette). Following the album tracking, he returned to complete dubbing and mixing in Belfast where he brought in some of Northern Ireland's finest musicians to help with final arrangements The result is a powerful blend of two diverse and rich musical cultures, a Celtic-Nashville concoction connected by Neeson's unique vocal tones and song writing prowess, performing songs co-written with leading USA and Nashville country writers including 2016 Tennessee songwriter of the year Corey Lee Barker; Steve O Brien, Blue Miller, Chase Akers, Blake Densmore and Allen McKendree Palmer who between them have sold in excess of 30 million songs.
"Everything I am is wrapped up in this record. I've been, at times, brutally honest with myself and tried to create something with real truth and power attached to it. Whether other people hear White Feather and relate to the message or not, I know I've written a collection of songs that mean more to me than anything I've ever done in the past"
In Feb 2019, Neeson became a brand ambassador for the learning disability charity, Mencap NI, a partnership that stemmed from Mencap's instant connection with the lyrics of the song Broken Wing. In 2014, his son Dabhóg was born three months prematurely with Down's Syndrome and the impact of that life changing experience had such a lasting and profound effect that Neeson sought solace in penning an autobiographical and emotional account of his inner thoughts and what it's like to bring up a child with disability. World Down's Syndrome Day falls this year on 21 March and on that date Cormac will release a brand new documentary video of the making of Broken Wing in which he gets a shoulder tattoo with the image of three chromosome 21, the distinguishing genetic feature of Down's Syndrome.
It's no surprise then that much of the powerful subject matter of White Feather album is rooted in the life changing events of the past five years.
"White Feather isn't a rock record but rather a collection which embraces Americana, Folk music, Delta Blues and Gospel Soul, in many ways it's the heaviest set of songs to which the singer has attached his name. A celebration of life, it's a moving meditation upon the value of shared human connections.
(Planet Rock Magazine, March 2019 ****)
"It's beautiful, uplifting and worth taking the time out to listen"
(BBC NI Across The Line)
"Powerfully authentic, reflective and emotional, he deals with intimate feelings of sadness, frustration and dark times, seeking emotional refuge in the creativity of poetic song-writing. The result is a perfect illustration of how pain can produce the greatest of art. The solo album looks set to be a great success and should take Cormac's appeal way beyond the boundaries of rock music, opening his music up to a whole new audience.
(National Rock Review)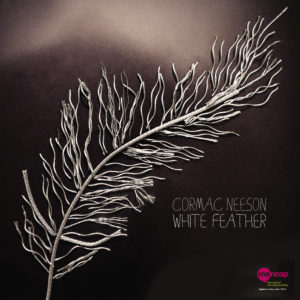 Track Listing:
⦁ White Feather
⦁ Do Something Today
⦁ Don't Wait Up
⦁ Borken Wing
⦁ Sweet Gentle Love
⦁ Oh Son
⦁ Song That Lives Forever
⦁ Look Down On Me
⦁ Artefact
⦁ Home To me
SHOWS:
U.K
May, 7th : The Underworld Camden, U.K ( w/ Shawn James )
May 8th : Palladium Club, Bideford, U.K ( w/ Shawn James )
May 10th : The White Horse Inn, Tiverton U.K ( w/ Shawn James )
May 11th : Town Hall, Bridgewater, U.K ( w/ Shawn James )
May 12th : The Bunkhouse, Swansea, U.K ( w/ Shawn James )
May 13th : Bannerman's Edinburgh, U.K ( w/ Shawn James )
May 14th : Trillian's Rock Bar, Newcastle ( w/ Shawn James )
IRELAND
May, 16th : The Grand Social, Dublin, IE
May 18th : Central Arts, Waterford, IE
May 19th : The Spirit Store, Dundalk, IE
May 23rd : Dolan's, Limerick, IE
May 24th : The Black Box Belfast, N.
May 29th : Fred Zeppelin's, Cork, IE
Aug 15-17 : Stendhal Festival, Limavady, Londonderry N.I