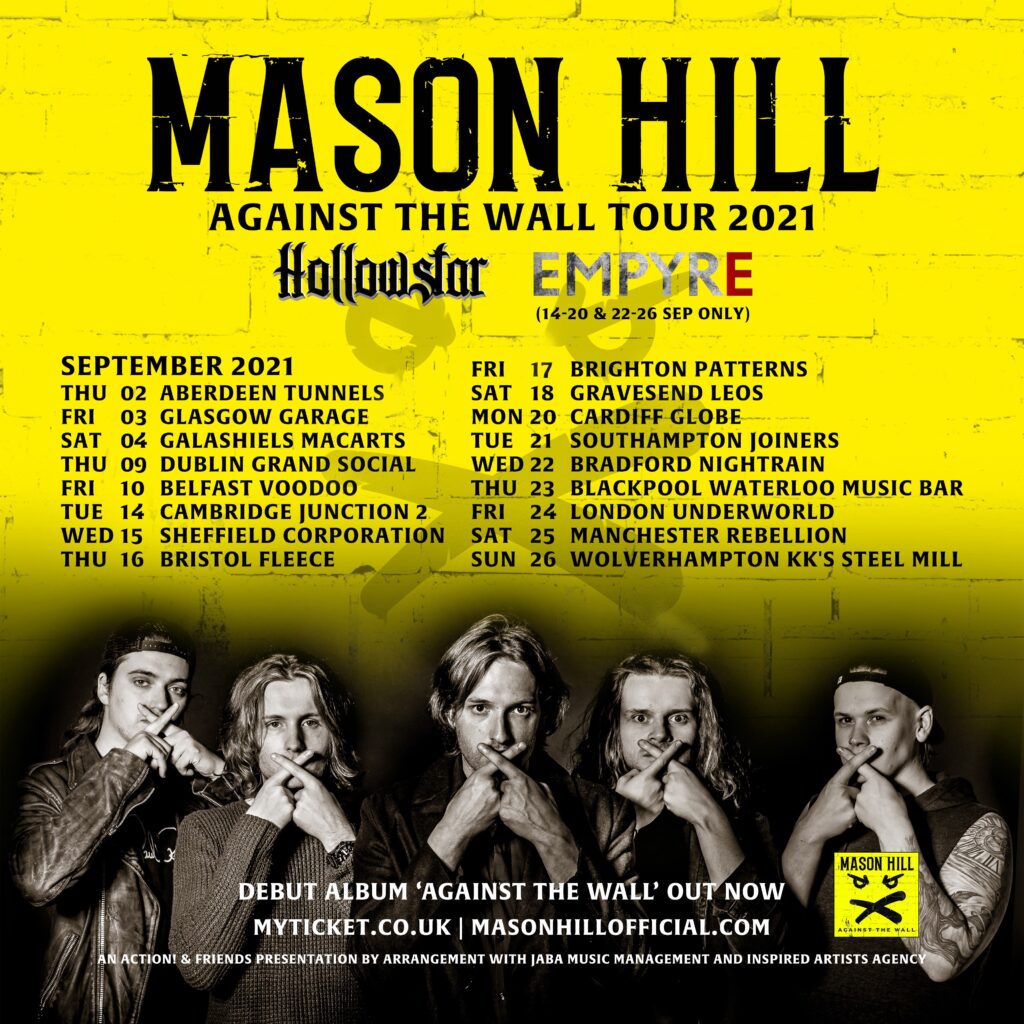 "The music really does the talking. Powered by enough energy to light up the national grid!"
(Metal Hammer)
"Music supercharged by adversity. The long awaited, cathartic full length debut"
(Kerrang!)
"Energetic, classy young hard rocker's debut. It's been worth the wait!"
(Classic Rock Magazine)
Following their new debut album "Against The Wall" storming the UK midweek album charts, Glaswegian rockers, Mason Hill, have today announced they'll be heading out on an extensive UK tour in September with support from Hollowstar and Empyre. The album is currently sitting at #6 in the UK national midweek charts – a huge achievement for a band releasing their debut album on an independent label during the Covid pandemic and at a time when no bands can perform live or tour! The album is available in multiple coloured vinyl, Picture disk, CD and digital – Order Here
THE UK TOUR DATES ARE AS FOLLOWS:
Thursday 2nd September
ABERDEEN Tunnels
Friday 3rd September
GLASGOW Garage
Saturday 4th September
GALASHIELS Macarts
Thursday 9th September
DUBLIN Grand Social
Friday 10th September
BELFAST Voodoo
Tuesday 14th September
CAMBRIDGE Junction 2
Wednesday 15th September
SHEFFIELD Corporation
Thursday 16th September
BRISTOL Fleece
Friday 17th September
BRIGHTON Patterns
Saturday 18th September
SOUTHEND Leos
Monday 20th September
CARDIFF Globe
Tuesday 21st September
SOUTHAMPTON Joiners
Wednesday 22nd September
BRADFORD Nightrain
Thursday 23rd September
BLACKPOOL Waterloo Music Bar
Friday 24th September
LONDON Underworld
Saturday 25th September
MANCHESTER Rebellion
Sunday 26th September
WOLVERHAMPTON KK's Steel Mill
Tickets are priced at from £12 and can be purchased via https://myticket.co.uk/artists/mason-hill
Tour announce video – Tour Announce Watch Here
Lead singer, Scott Taylor, has said of the tour: "We are all so thrilled with everything that has been happening, it's almost surreal. Our fans have been so supportive and to have a top 10 national album on our first release is mind blowing. It has made us even more hungry to get back out and play live again. Everyone is itching to crank up the volume and blast out the new material. We can't wait, the fans can't wait so we're stoked to be able to announce of first ever 15 date headline club tour in September! There's finally some light at the end of this Covid tunnel!!"
This week, in support of the album release, the band will also perform virtual instore signings with 3 track electric and acoustic sets at Crash Records Leeds on 9th March and Assai Records Edinburgh on 10th March. Not only are Mason Hill making a mark in the UK but they're also making great early progress in France and Germany. The band are presently on several rock radio playlists having amassed a staggering 1,600 radio plays throughout Germany since January. They are also in the top 10 Heavy1 French radio playlist and have recently been added to the USA Music Choice Active Rock station.
You can check out their latest single "Broken Son" along with a special lockdown video performance which you can Watch Here and Listen Here.
This follows on from their explosive last singles "D.N.A", "Find My Way" and "Against The Wall" all of which received support across the board including over 700,000 streams as well as support from the BBC Radio 2 Rock Show, Planet Rock radio playlists and key rock magazine coverage.
Mason Hill's debut album has been a long time in the making and was recorded in November 2019 at Riverside Studios in Glasgow, with singer Scott Taylor later travelling to New York to track his vocals. Acclaimed rock mixer Chris Sheldon (Biffy Clyro, The Foo Fighters) took the helm for the mixing and the album has been extremely well received by the critics.
Mason Hill are Scott Taylor (lead vocals), James Bird (lead guitar), Marc Montgomery (guitar), Matthew Ward (bass) and Craig McFetridge (drums)
For further artist information, please check out: https://www.masonhillofficial.com/home