FISH has shared his new single, 'Weltschmerz', the title track from his upcoming – and final – studio album, out on Sept 25th 2020.
Released alongside a surreal video, which provides a dark, visual exploration of the track's powerful lyrical content, 'Weltschmerz' sets the tone for FISH's upcoming album. Toying with the word's meaning and its various interpretations, which directly translates to "world pain", the release is an evocative criticism of the state of society. https://7hz.lnk.to/WeltschmerzAlbum
"It's been over five years since I first came up with the title," explains FISH. "In this present day and age, never has an album title become so apt. The writing process has been prolonged and demanding, taking place over the last four years, but the end results I promise you are more than worth the wait."
Working once again with his long-term co-writer Steve Vantsis and renowned producer Calum Malcolm (Blue Nile, Prefab Sprout, Clannad), the album features an array of musicians including elements of the Scottish Chamber Orchestra, saxophone and whistle player David Jackson (Van Der Graaf Generator), drummer Craig Blundell (Steve Hackett, Porcupine Tree) and guitarist John Mitchell (It Bites, Lonely Robot).
The album features previously released single 'Man With A Stick', which won the coveted status of 'Single Of The Year' with Planet Rock in 2019, alongside 'Little Man What Now' and 'Waverley Steps (End Of The Line)', which both featured on 2018's A Parley With Angels EP, and have been remixed for the album's release.
Weltschmerz will be available as a heavy-duty 180-gram double vinyl album in a gatefold sleeve with colour inserts, and as a standard double CD in an FSC approved cardboard wallet with a 24-page colour insert, as well as across digital providers.
The album will also be released as a deluxe version, comprising of a hardback book featuring original artwork, illustrations and FISH's expansive sleeve notes and lyrics across 100 pages. It will also include the two album CDs and a Blu-ray disc, only available in the deluxe version, featuring music videos, live performances and a 90 minute interview of the history and content of the Weltschmerz album.
All formats and new Weltschmerz merchandise will only be available on FISH's online store at http://fishmusic.scot/. Pre-orders will start at the beginning of June 2020.
WELTSCHMERZ TRACK LIST
DISC ONE
1. Grace Of God
Man With A Stick
C Song (The Trondheim Waltz)
Walking On Eggshells
Rose Of Damascus
DISC TWO
This Party's Over
Little Man What Now?
Garden Of Remembrance
Waverley Steps (end of the line)
Weltschmerz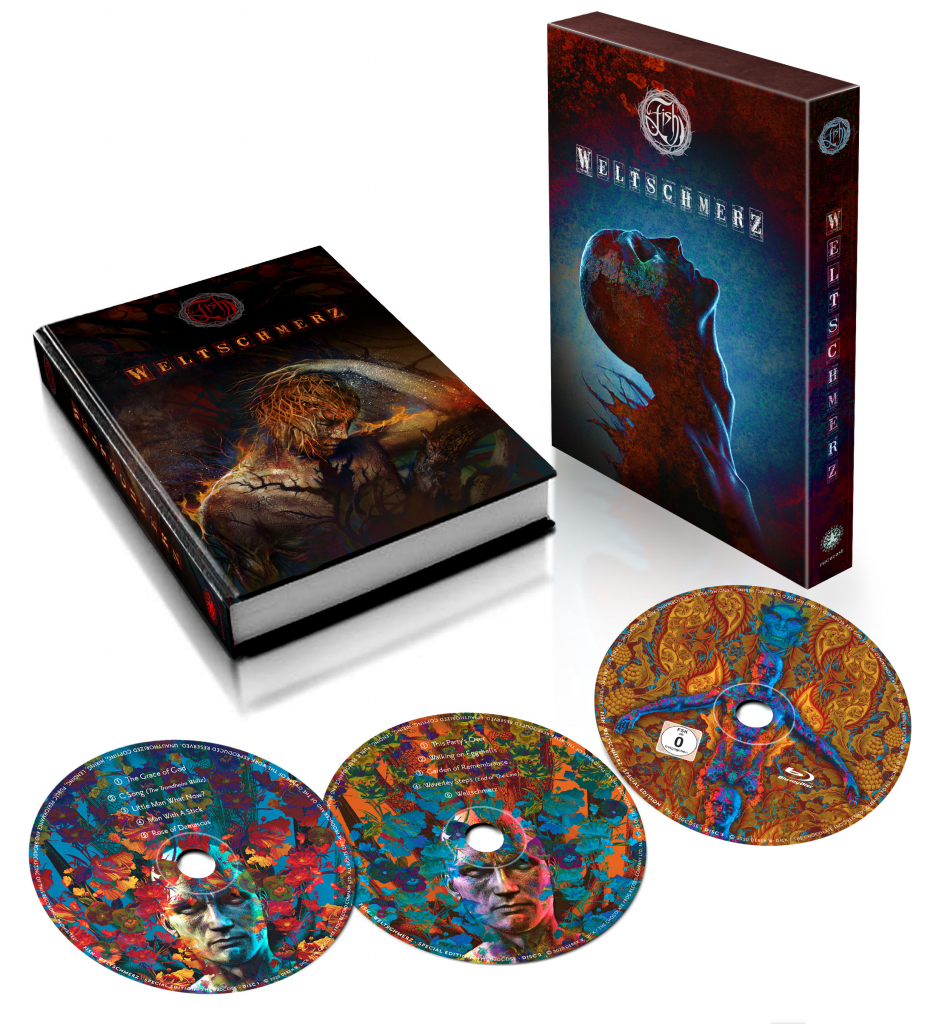 For more information contact William Luff or David Sullivan at Wilful Publicity
william.luff@wilfulpublicity.co.uk / david.sullivan@wilfulpublicity.co.uk